Household chores ou housework são aquelas atividades do dia a dia, e que nem sempre gostamos de fazer, seja em português ou em Inglês. 😊
Mas, como o que importa neste artigo é aprender o vocabulário sobre tarefas domésticas em Inglês, vamos direto ao assunto. É hora da faxina!
Conheça algumas expressões e verbos usados para atividades do dia a dia como lavar a louça, a roupa e limpar a casa.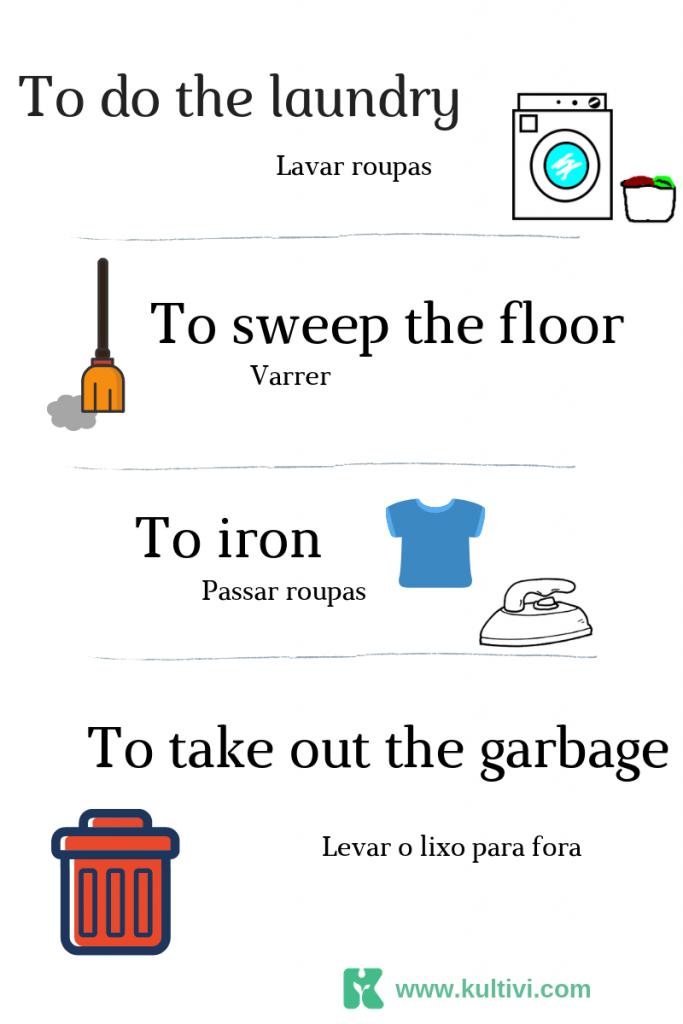 10 tarefas domésticas em Inglês
To do the dishes – Lavar a louça
To clean the house – Limpar a casa
To cook – Cozinhar
To make the bed – Arrumar a cama
To do the groceries – Ir ao supermercado
To set the table – Arrumar a mesa (colocar os pratos e talheres)
To dust the furniture – Tirar pó
To vacuum the house – Aspirar o pó (aspirador)
To walk the dog – Caminhar com o cachorro
To mow the lawn – Cortar a grama
Estou certa de que você faz pelo menos duas dessas atividades durante a semana. Então, vou te dar uma dica: aproveite o momento que gasta lavando louça para ouvir algo em Inglês, seja uma música, um podcast ou uma videoaula.
Assim você usa melhor seu tempo, além de dar conta daquela atividade chata, como lavar a louça.
Lembre-se que aprender inglês é um processo e para acelerar a fluência, quanto maior seu contato com o idioma, melhor.
Se você quiser conhecer mais palavras para outras tarefas diárias, confira essa videoaula sobre Daily Routines do professor Rui.
Até mais e bons estudos.
Você também vai gostar de:
Compartilhe este conteúdo: